Got this last week and for some reason, I only waited until yesterday to hurriedly rip up the plastic that was holding back the treasures that this magazine possessed.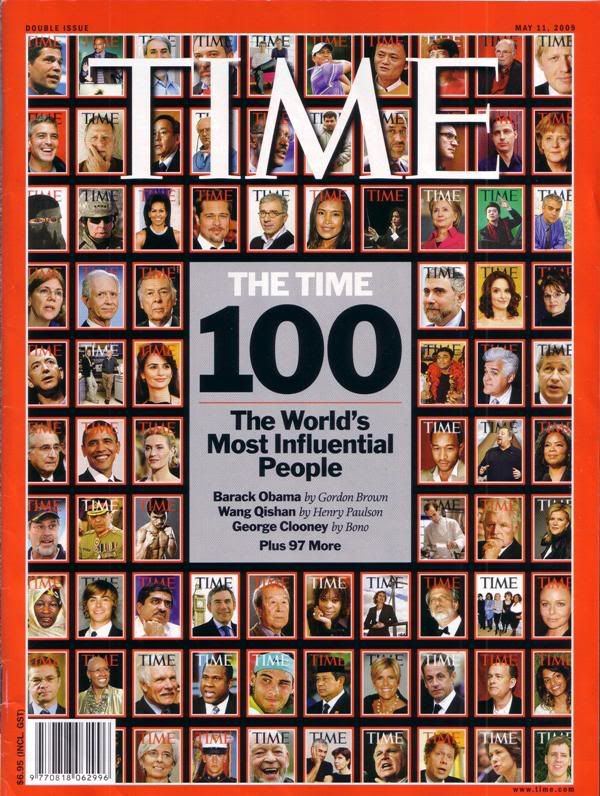 I'm a huge fan of TIME, I mean who wouldn't be- it is both intellectual and inspiring, need I mention it tackles every issue from around the world- even the Fashion Industry
(see annual issues dedicated to Styling & Design)
.
And this issue is exactly just that- inspiring.
M.I.A
(aka Maya Arulpragasam)
was crowned by Spike Jonze as one of the 100 Most Influential People of the World.
(Click to read article- so good to see Australia be mentioned somewhere in there too haha!)
She shares the title along with our Man of the Moment Barack Obama, John Legend, Kate Winslet, Stella McCartney, Manny Pacquiao
(fellow Filipino)
and yes, even Mr. Zac Effron as well as other inspiring icons.
The articles are a must read, well at least for most of them.
It's a great way to show the world inspiration amongst the chaotic issues of today's society aka Swine Flu, recession, Ms. California vs. Perez Hilton, Twitter, unethical shenanigans, poverty and hunger
(with that let's keep Allegra Versace's shrinking body parts)
.
Also, I'm quite proud to see a fellow Filipino mentioned in the issue, it's an honour for our country to have at least one person be recognized for their fair achievements knowing Philippines is kind of under some of the worst political figures.
If anyone's keen on reading on, the other 99 heroes and their articles can be checked out at
TIME.com
.
And with Twitter being mentioned somewhere above,
get at me!
twitter.com/janzelle