This weekend as well as the next few days are going to be packed once again,
so I may fail to update the blog, therefore this post will be a little longer than usual.
Thrifted Lace Top, Self-made Pleather, Sportsgirl purse & leggings
This week has been good so far.
Minus all the assignments being poured in right now, and my continuing struggle to stay organised.
I've got to stop procrastinating, or at least leave it on pause for a bit-
this is really the first peak of chaos in year twelve.
Assignments now, exams soon, majors sooner!
Anyway, on a lighter note.
I thrifted this magnificent number a few weeks back,
and might I add, it's perfect for the season.
(it is nearing Winter here in Aust.)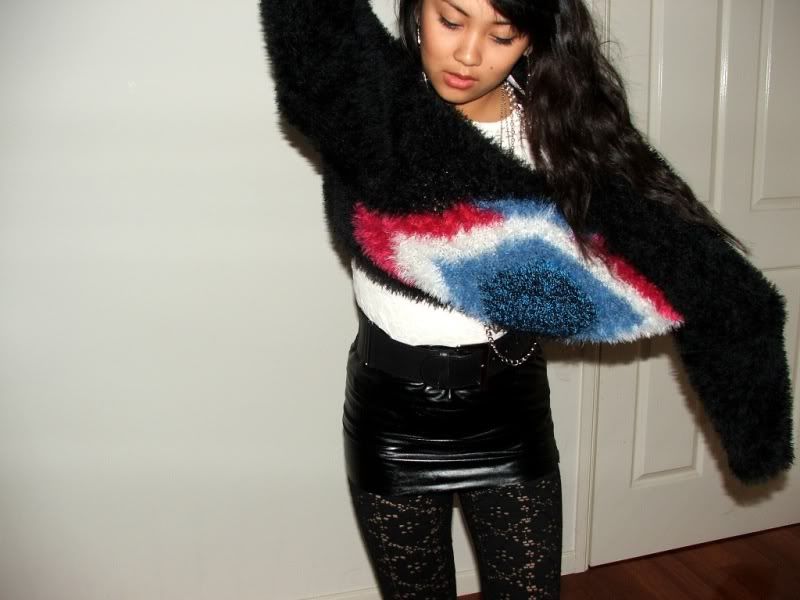 Today me and my two close ladies browsed around local chain stores and we noticed the whole trend of layering Crucifixes.
My mum's a great believer of faith and she has this astonishing respect for the symbolic cross, she's not a big fan of it being made into trendy jewelry for fashion purposes.
That stuck to me since then.
I never decided whether to abide by her belief, or simply just see the jewelry designs in an aesthetically pleasing point of view.
Frankly, it isn't much of a bother to me, the only thing that has managed to slightly tick me off is thanks to the original Givenchy chains, chain stores much like DIVA, or GLOSS are now knocking off the same style which for sure will be rocked out by tweens all over town.
Another nuisance that has sprung up is Kanye's leaked clip to his latest,
Paranoid
.
Now, I'm a HUGE Yeezy fan, I admire the genius fella.
I'd say view the clip first, for simply reading my criticism on without having watched the video will not only make myself sound precisely picky, and also quite a bit of a Riri hater
(I'm not, she just bothers me)
.
Here it is- Mr. Kanye West's
'Paranoid'
predictably featuring Rihanna as the video girl:
I could go on with the numerous things that annoy me with this clip.
But first let me state that I'm a fan of both Kanye's and Rihanna's.
Just more biased on Kanye.
One thing that is of an ultimate annoyance to me is Rihanna and her Michael Jackson-ass, Edward Scissorhands 'do. The girl is gorgeous, and we all know her beating only made her popular and has allowed her to switch into ultimate bad-bitch mode, but seriously, the sky is toooo high! Lower down the mohawk hun.
Secondly, she is not doing anything respectful. Well in my opinion at least. She's lowered her classiness down to almost soft-porn video girls out there by caressing herself simultaneously, I mean fair enough if the song had something to do with any sexual innuendo whatsoever- but it DOES NOT!
Thirdly
(and lastly- believe me I have so much more)
but damn do Yeezy and Riri both freak the hell out of me whenever that laughing sound comes up.
I'm glad this clip got leaked, it only emphasized that Kanye needs to get his directors right as well as his concepts.
I had high expectations for this song, because it is one of my faves on the album.
Overall Yeezy is still the man.
And I should stop hating.
Apologies for the overboard analysation,
before I bore ya'll even more,
I must end it here. goodnight loves!
Update when I can.
X