Evening!
Before I start to pack my bags for a long weekend of fun in the sun (big chance it'll be cold cos it is in
Wollongong
), thought I'd just share my latest
chic-onomic
bargain find.
Remember this lovely
Etro
dress Ms.
Kate Bosworth
wore at a watch launch in
New York
?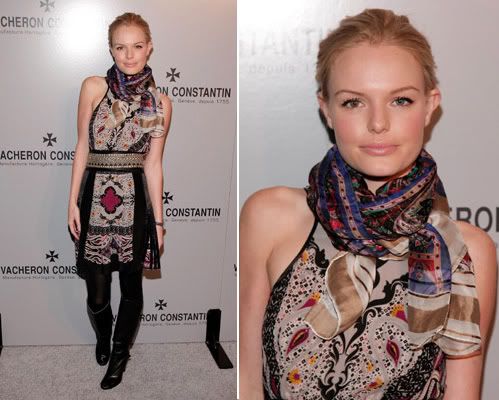 Well I found a cute mini dress that's heavily inspired by the one Ms. Bosworth's rocking, complete with the half bandana print, half ethnic influence.
I absolutely love it.
And this baby only cost me $10.
I don't know about you, but doesn't it just scream designer?
What's good about it is you could tuck it in a pair of high-waisted bad boys and VOILA!
You've got one cute statement shirt.
Since I'm not a tall girl, I think wearing this as a dress will probably get myself momma-slapped by my mother so I think I'll stick to wearing them as a top.
Blog when I get back!