I was supposed to have three continuous daily entries since my last one but constructing a new blog with my team has slowed the process down.
Yes we are officially combining all our brains & style together and writing all we can in one site.
Although promotion is currently underway, I'd like say to keep in tuned, but knowing me,
I'm not all for hyping things up.
Anyway!
What I was supposed to post about before was the remake of the Disney classic,
Alice in Wonderland.
It stars Johnny Depp as the Mad Hatter, Anne Hatthaway as the White Queen and Aussie newcomer Mia Wasikowska as Alice.
I am a huuuge fan of Tim Burton,
The Nightmare Before Christmas
being one of my ultimate favourite movies ever made, and
Big Fish
with Ewan McGregor was absolutely magnificent.
The release date is not until next year, which hypes the excitement even more.
Because I'm
kenzo
mously inspired at the moment, here is KENZO's Spring 2009 Collection based on none other than
Alice in Wonderland.
I've got to say, Marras was an absolute genius
(when is he not though!)
in this.
Something whimsical, something ethereal, something couture yet something wearable.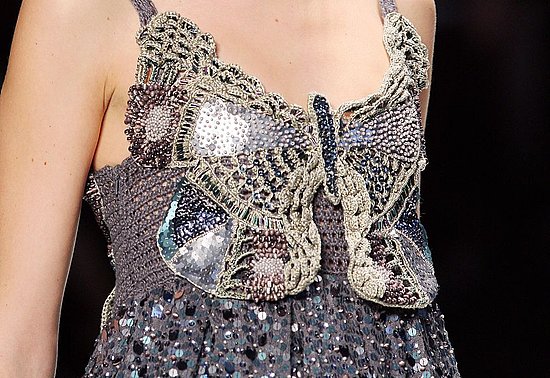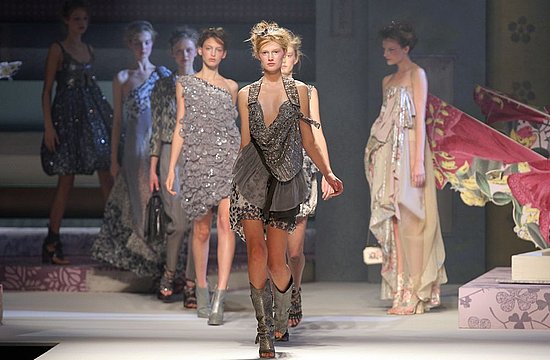 My god look at that beading.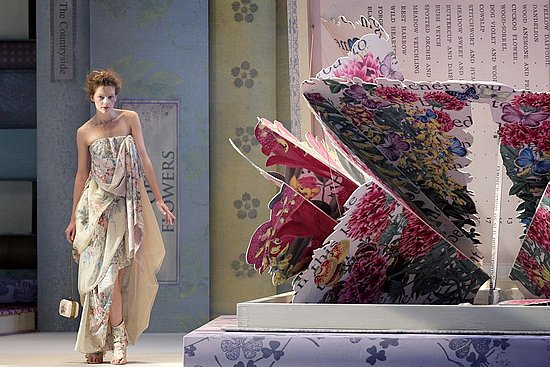 For those of you with a bit of spare time on your hands,
or don't mind setting 3 minutes of YouTube time aside,
here's the creative vision version of the collection.
I am telling you, it's not WOW material because it is the summarized version of the show,
BUT
although the background Alice whispering music kind of creeped me out at the same time gave off a fantastical aura - it is a
MUST
watch.
The picture above with the model walking past a life-size pop-up book,
well it actually opens up during the show.
Watch the 'tube if you don't believe me.
Better yet, YouTube the full show and towards the end the magic starts to happen.
I'm off to work on the team blog once again,
so if anyone accidentally
(by that I mean purposely)
stumble upon it,
excuse the maintenance in progress, we are still preparing to climb the Blogger ladder.